Hello friends of the jewels! I have more Valentine pieces coming today. After going through my stash last week, I didn't realize just how many cherubs, hearts, and arrows I had in my arsenal! So here's round two for you....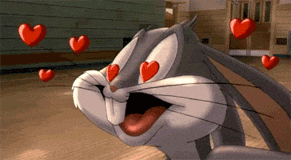 courtesy of https://giphy.com/
As of blogpost publication time, the double gold hearts necklace has sold. But I still have the rhinestone heart necklace and the two bracelets available. Come see more of them later today in my
Etsy
shop. Have a great day everyone...and you guys up north...Stay warm and well!!!